Tiger Woods is widely regarded as one of the greatest golfers of all time. He has won 82 PGA Tour events and 15 major championships and held the world number-one ranking for a record 683 weeks. Tiger's success is partly due to his incredible talent and work ethic, but it's also thanks to his carefully selected golf clubs.
Tiger Woods used a variety of golf clubs throughout his career, all of which were designed to provide maximum performance and precision. Here are the clubs that he uses in his successful tournaments:
Tiger Woods is known for his attention to detail, and his golf clubs are no exception. Each club in his bag has been carefully selected to provide him with the best possible performance on the course.
Now let's take a closer look at these clubs. We'll discover what makes them so special that can help Tiger Woods win major championships throughout his journey. So, read on!
Driver: TaylorMade Stealth Plus
The Driver that Tiger Woods chose is the TaylorMade Stealth Plus, and it's not hard to see why. This club is designed to provide maximum distance and accuracy, making it a valuable asset to any player's bag. 
What's more, the head of the club boasts a large sweet spot that forgives even the most off-center of hits, making it a great option for golfers of all skill levels.
5-Wood: TaylorMade M3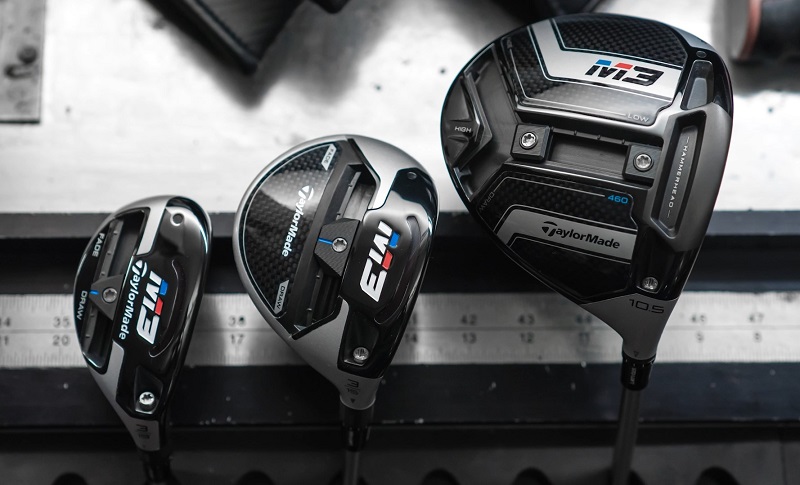 Shaft: Mitsubishi Diamana D+ Limited 80 TX – 19 degrees
The TaylorMade M3 5-wood is a versatile wood club that Tiger Woods relies on. With a 19-degree loft and a Mitsubishi Diamana D+ Limited 80 TX shaft, this club is designed to provide maximum accuracy and control, whether it's used from the fairway or rough. Its versatility allows for a wide range of shots, from long approach shots to chip shots around the green. The combination of its design and Tiger's skill make this club a vital tool in his golf bag.
3-Wood: TaylorMade M5
Shaft: Mitsubishi Diamana D+ Limited 70 TX – 15 degrees
The TaylorMade M5 3-wood is another key fairway wood club in Tiger Woods' bag. With a 15-degree loft and a Mitsubishi Diamana D+ Limited 70 TX shaft, this club is designed to provide control and accuracy with every shot. It's also incredibly versatile, allowing golfers to hit high-lofted shots when needed, making it a great choice for fairway approaches and longer tee shots. 
Iron: TaylorMade P7MB
TaylorMade P7MB Irons
Tiger's exceptional accuracy with his iron shots relies on outstanding feel and control, elements that are embodied in his tailor-made TaylorMade P7TW irons. These muscleback blades are crafted to Tiger's exact requirements, and his set encompasses 3-PW irons.
Although his Limited Edition P7TW Irons are no longer obtainable for purchase, they share similarities with TaylorMade's P7MB blades. The P7MB irons offer a modern perspective on traditional muscleback blades, showcasing sleek designs and compact blade lengths, thus promoting versatility across the set.
The P7MB irons, forged for a refined feel, boast minimal offset, a slender top line, and a slim sole. These irons provide exceptional control and accurate shot shaping for elite players, akin to Tiger's skill level as a top-tier ball striker.
Wedge: TaylorMade MG3
Loft/Bounce: 56°/12°, 60°/11°
Tiger Woods relies on his TaylorMade MG3 wedges to provide him with unmatched control and accuracy around the green. These wedges boast a distinctive design that contributes to maximum spin and precision, empowering Tiger to execute shots with complete mastery.
Crafted from top-tier materials, the MG3 wedges ensure enhanced control and tactile feedback. With two distinct lofts and bounces (56°/12° and 60°/11°), Tiger has the flexibility to select the perfect club for any situation, making these wedges an indispensable weapon in his arsenal.
These exceptional wedges not only exemplify Tiger's commitment to using the finest equipment, but they also contribute to his unparalleled success on the golf course, allowing him to perform at the highest level and further solidify his legendary status in the sport.
Wedge: TaylorMade MG2 TW Grind
In addition to the TaylorMade MG3 wedges, Tiger Woods also has a pair of the TaylorMade MG2 TW Grind wedges. These Tour-quality wedges feature an advanced sole design that provides maximum control and precision around the green. They also have a slightly wider sole that helps players get out of all sorts of lies, making them a great club for any situation.
The 56° and 60° lofts are designed to provide maximum spin, control, and accuracy with every shot, making them a great choice for experienced players.
Putter: Scotty Cameron Newport 2 GSS
For years, the Scotty Cameron Newport 2 GSS putter has been a mainstay in Tiger Woods' bag. Its classic design features soft edges and an extra-wide flange, making it incredibly stable on the green. The Ping PP58 Blackout grip provided a comfortable feel and added control with every stroke, allowing him to line up his putts confidently. 
Scotty Cameron Newport 2 GSS is an incredibly reliable and accurate putter, making it a must-have in any serious golfer's bag. Thanks to its excellent design and Tiger Woods' steady touch, this club has been a consistent performer on the green for years.
Ball: Bridgestone Tour B XS
Tiger Woods is a name that is synonymous with excellence in the world of golf. So, when he trusts a golf ball for its consistent performance, it's worth paying attention to. And the ball in question is the Bridgestone Tour B XS golf ball. This incredible ball is designed to maximize control and distance thanks to its advanced construction and technology.
But it's not just about power – the Tour B XS also has a soft feel that helps players maintain accuracy around the green and on approach shots. Whether you're a pro like Tiger or a weekend warrior, the Bridgestone Tour B XS may be the ball you need to take your game to the next level.
What Makes Tiger Woods' Clubs Unique?
Tiger Woods golf clubs are exceptional for various reasons. They are specifically designed to cater to his distinct swing and playing techniques. In a close partnership with TaylorMade, Tiger has developed clubs optimized for his preferences, considering factors such as swing speed, ball trajectory, and more.
Secondly, Tiger's clubs frequently boast personalized specifications and adjustments. For instance, his driver showcases a slightly reduced head size compared to standard models, while his irons possess an exclusive grind on the sole to enhance turf interaction.
Thirdly, each of Tiger's clubs is purposefully crafted to deliver outstanding performance in specific areas, like distance or precision. His driver, for example, is engineered to achieve maximum distance and forgiveness, whereas his irons focus on accuracy and control.
Lastly, their design and production's unparalleled attention to detail sets Tiger's clubs apart. Utilizing state-of-the-art materials and technologies, every club is painstakingly crafted, and each component is meticulously chosen and tested to guarantee optimal performance.
Tiger Woods golf clubs epitomize the significance of having the ideal equipment for the task at hand. By collaborating closely with club manufacturers and customizing his gear to meet his individual needs, Tiger has attained extraordinary success on the golf course, solidifying his status as one of history's greatest golfers.
Read more:
Conclusion
Tiger Woods is one of the greatest golfers of all time, and his clubs are a big part of his success. Each club is designed to meet his specific needs and preferences, from his driver to his putter. By using a combination of distance, accuracy, and control, Tiger has been able to achieve incredible feats on the golf course and cement his place in golf history.
FAQs
How Often Does Tiger Woods Change His Golf Clubs?
Tiger Woods is known to be very particular about his equipment and will only make changes when he feels it is necessary. He may make changes to his clubs before major tournaments, but otherwise, he tends to stick with the same equipment for extended periods of time.
What Brand Clubs Does Tiger Woods Use?
Tiger Woods currently uses a set of clubs from the brand TaylorMade, including the TaylorMade Stealth Plus driver, TaylorMade M3 5-wood, TaylorMade M5 3-wood, TaylorMade P7MB irons, TaylorMade MG3 and MG2 TW Grind wedges, and Scotty Cameron Newport 2 GSS putter. However, it's worth noting that Woods has used clubs from other brands in the past.
Can I Use The Same Golf Clubs As Tiger Woods To Improve My Game?
While using the same golf clubs as Tiger Woods may not guarantee success on the course, having high-quality clubs custom-fit to your specific needs can help improve your game. 
What's The Difference Between Tiger Woods' Golf Clubs And Those Used By Other Professional Golfers?
Many professional golfers have their clubs custom-made to suit their individual needs and preferences, so the differences between Tiger Woods' clubs and those used by other golfers can be subtle. However, the specific design and construction of his clubs and the materials used may differ from those used by other golfers.
Where Can I Buy Tiger Woods Golf Clubs?
Tiger Woods golf clubs can be purchased at many sporting goods stores and online retailers. However, keep in mind that some of the clubs he uses may be custom-made for his specific needs and may not be available for purchase by the general public.