Are you looking for the best golf courses in Maryland? Look no further! We have compiled a list of the top 15 golf courses in Maryland for 2023. From championship-level tracks to family-oriented courses, we've got it all covered. Each course is unique and offers its own set of features, layout, amenities and more. So get ready to hit the links this summer and explore some of the best golfing experiences that Maryland has to offer!
Congressional Country Club (Blue)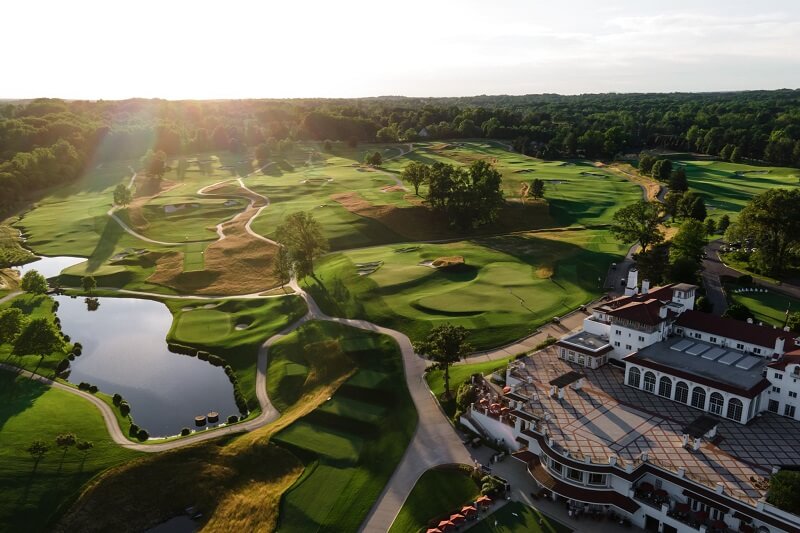 Congressional Country Club: Blue is a course that has stood the test of time and is considered among the best 100 courses in the United States. Its reputation is backed by numerous accolades that it has received over the years, including being ranked first in the Best in State category in 1985, 1993, and 2005. It's no wonder that it continues to be a favorite destination for golf enthusiasts around the globe.
Players aiming to improve their game will find that Congressional Country Club: Blue is the perfect venue. With challenging terrain that includes rolling hills, tree-lined fairways, and tricky greens, the course offers the ultimate golf experience. The course boasts 18 holes, 7,574 yards from the back tees, and a par 72, with a course and a slope rating of 75.4/142. Bent grass is used for the fairways and greens, making for a smooth playing surface that players can rely on during their games.
Congressional Country Club: Blue is more than just golf. It offers luxurious retreats, 21 accommodation options, a tennis club, a ballroom, pools, and fine dining at The House Grill, The Chop House, The Founders Pub, The Pavilion, The Stonebar, The Stop and Go, Midway House, and Beverage Carts. It's perfect for golf enthusiasts or anyone seeking luxury.
Location: 8500 River Rd, Potomac, MD 20854
Caves Valley Golf Club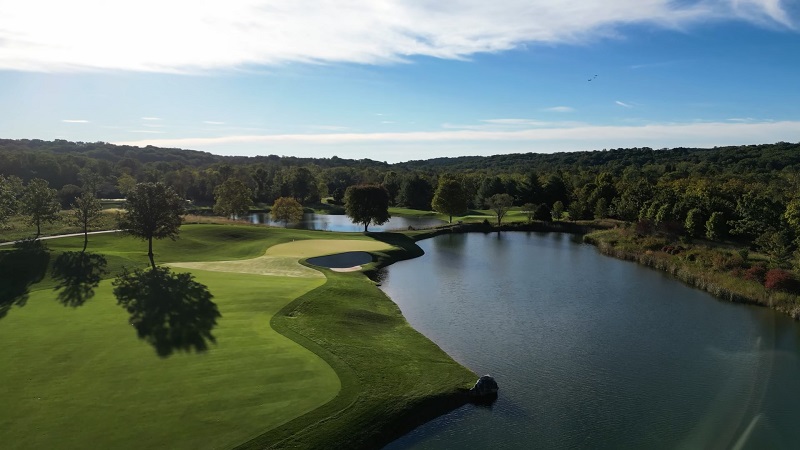 Caves Valley Golf Club is a professional golf course that has been ranked third Best in the State and has been the site of multiple PGA TOUR events such as the BMW Championship, U.S. Senior Open, Arnold Palmer Cup, and NCAA. The degree of challenge provided to players has kept it a players' club, wherein one can remain a player only by constantly being tested during a round. It features 18 holes with a total length of 7340 yards and a slope of 142.
The club also has a strong foundation, which is dedicated to introducing the values of golf to young people. They assist caddies in furthering their formal education through college scholarships. Caves Valley has state-of-the-art amenities, including newly renovated practice facilities, a full-service clubhouse, and four bunkers framing the landing area. The two-par threes on the front nine are notable and only add to the golfing experience in this top-notch facility.
Location: 2910 Blendon Rd, Owings Mills, MD 21117
Baltimore Country Course (East), Lutherville
Baltimore Country Club's East Course, also known as the Five Farms Course, was designed by the most modest of modern-day architects. It has been ranked among the 100 Greatest courses by Golf Digest for a remarkable 36 years from 1969-2004. Additionally, it was ranked second in Maryland's Best in State list from 2013-2022.
The course features 18 holes with 7002 yards and 141 slopes and is private. It is suitable for all levels of players and boasts well-maintained fairways and greens in natural rolling hills that twist and turn throughout the round. You'll need to watch out for slick greens and well-designed holes throughout the East Course. Notably, anything long and above the hole on 2 holes virtually ensures a 3 or 4 putt.
Location: 11500 Mays Chapel Road, Lutherville, Maryland 21093
Chevy Chase Club
Chevy Chase Club comprises a private true classic course with 18 holes, all of which span 6911 yards. It boasts a rating of 73.6 and features fairways and greens of bent grass, which is consistently maintained to provide excellent conditions. An available cart makes it even more convenient to navigate the challenging course, especially at the tips. If you are interested in playing golf, this course is a must-visit destination.
While playing at Chevy Chase Club, golfers will experience excellent practice facilities and an unhurried atmosphere, thanks to the charming clubhouse and pleasant golf course set on rolling topography. The Club encourages the perfect golfing experience by providing a well-maintained course. The atmosphere is relaxing, and visitors can take their time on the course to improve their swing while enjoying the beautiful surroundings. The Club offers a top-notch golfing experience that leaves golfers with lasting memories. If you are looking for a place to relax and enjoy world-class golf, the Chevy Chase Club is an excellent choice.
Location: 6100 Connecticut Ave, Chevy Chase, MD 20815
Lake Presidential Golf Club
Lake Presidential Golf Club is a top-tier facility with a reputation for being one of the best and toughest public courses in Maryland. The 18-hole, par-72, 7,230-yard layout is exceptionally maintained by PGA of America Professionals. The course meanders through heavily wooded terrain and rich, natural expanses, providing golfers with a challenging and scenic experience.
One of the many highlights of the course is its generous landing zones, making it playable for golfers of wide-ranging skill levels. The greens and fairways feature Champion Bermuda grass and are exquisitely groomed. Entertaining green complexes, handsomely groomed playing surfaces, white-sand bunkers, and picturesque streams add to the allure of this course. Lake Presidential is a long and intriguing course that offers many challenges, among them a couple of relatively short par 4's and the three holes that make full use of the lake.
Lake Presidential Golf Club offers ample amenities for guests. The Clubhouse features 11,000 sq. ft., including lockers, showers, and a private conference area. The Perch Grille overlooks the property's 30-acre lake, offering a full bar and T.V.s. Tour Quality Practice Facilities are also available.
Location: 3151 Presidential Golf Dr #8957, Upper Marlboro, MD 20774
Burning Tree Club, Bethesda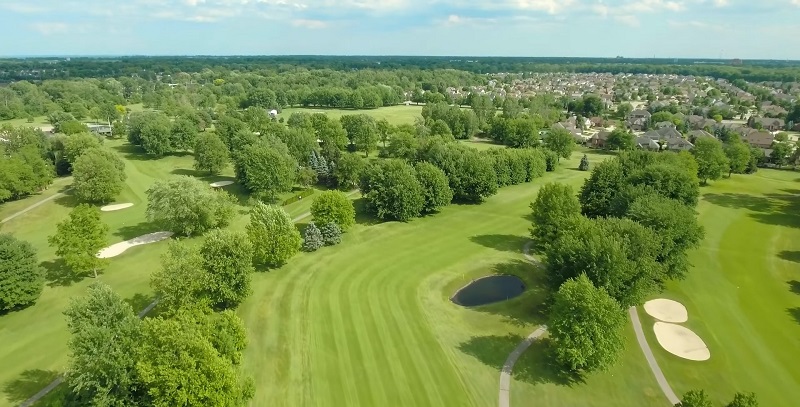 Burning Tree Club is a private, all-male golf club that spans a total of 6748 yards over its 18-hole course. With a par of 71 and a slope of 130, the course offers a challenging experience to golfers of all skill levels. The club's Bermuda Grass greens and fairways are meticulously maintained to provide players with the best experience possible. With a rating of 72.5, Burning Tree Club's course is recognized as one of the best in the State, ranked fourth from 2019-22.
Burning Tree Club also offers golfers a unique and special atmosphere that is unmatched. The course's strength is its bunkering, which provides a great challenge to golfers looking to enhance their skills. Additionally, the club includes a newly updated practice range, along with a short game practice facility, driving range, practice greens, and lessons from PGA professionals. Tournaments for all ages, junior programs, and a well-stocked golf shop are also available for members. Overall, Burning Tree Club provides one of the best golfing experiences in the tri-state area, with something for every golfer to enjoy.
Location: 8600 Burdette Rd, Bethesda, MD 20817
Congressional Country Club (Gold), Bethesda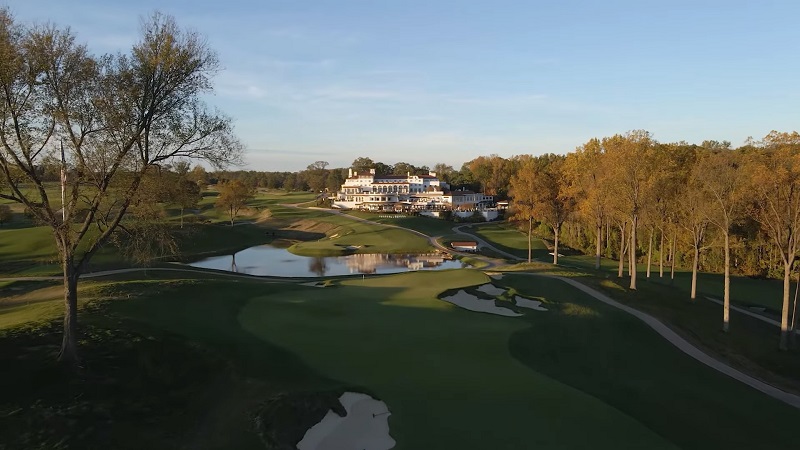 Congressional Country Club, established with its Blue and Gold Nines course, has a rich history of golfing excellence dating back to the early 20th century. Though originally started as an 18-hole course, the Blue and New Nine were later combined to form an 18-hole championship Blue course, which forever became the club's crown jewel. Despite living in the shadow of its more illustrious counterpart, the Gold course that continues to exist as a 9-hole track is nevertheless a prestigious and challenging golfing experience that is worth a visit.
With a length of 6,844 yards from the back tees and a par of 71, the Gold course possesses an easy course layout known for its rolling terrain, tree-lined fairways, and challenging greens. This course has an unmistakable air of charm and allure, highlighted by a couple of outstanding holes, most notably the 12th and 18th holes. These exceptional holes offer interesting greens that perfectly complement the layout. Besides, the iconic clubhouse makes an exciting background while playing. Golfers can feast their eyes on the club's collection of memorabilia, including amazing pictures and tournament souvenirs. Water hazards on some holes further add to the game's fun, making the Gold course one of the world's finest leisure experiences.
Location: 8500 River Rd, Bethesda, MD 20817
Whiskey Creek Golf Course
Whiskey Creek Golf Course is a public course located just 30 minutes from Washington, D.C. It features 18 challenging holes with a par of 72 and a total yardage of 7001. Golfers who play here are sure to appreciate the privacy and seclusion offered by the course. They can count on friendly service and the convenience of electronic scoring in carts.
Course conditions at Whiskey Creek are consistently top-notch, with varied hole designs that showcase the natural beauty of the surrounding landscape. The course is bordered by a high ridge of hardwoods and a winding, free-flowing creek. It also features springs, streams, stone walls, wetlands, rock outcroppings, and broad meadows, as well as pine forests and dramatic views of the Catoctin Mountains. Golfers are especially impressed by the 18th hole, which is one of the most unique and dramatic finishing holes in the Mid-Atlantic. With its natural beauty and challenging design, Whiskey Creek Golf Course is a must-play for golf enthusiasts of all levels.
Location: 4804 Whiskey Ct, Ijamsville, MD 21754
Bulle Rock GC, Havre De Grace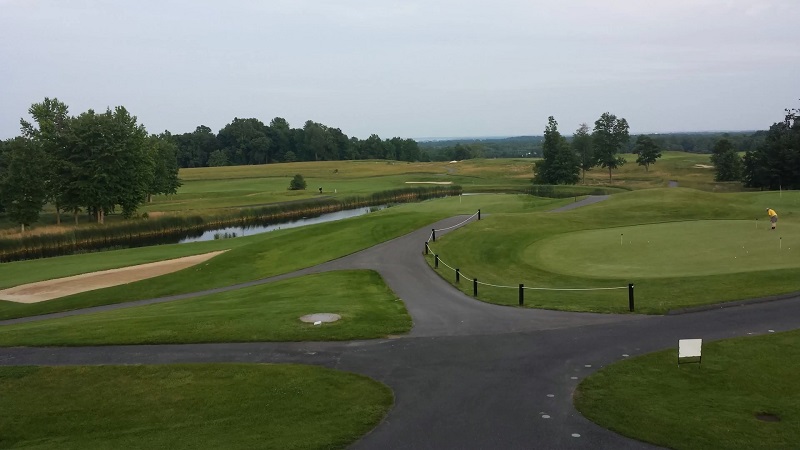 Bulle Rock Golf Course, named after the first thoroughbred horse brought to America, is a top-ranking public course in Maryland. Spanning 235 acres, this 18-hole course boasts 72 par and 7375 yards. With a 76.6 rating and 148 slope rating, it's no wonder that this course is consistently ranked among the top 100 listings of every major Golf Publication.
The strength of Bulle Rock lies in its stunning tee shots, terrific green complexes, wonderful course conditions, and great design. It's not just the awards that make this golf course a standout; it has hosted the LPGA Championship, a women's major, from 2005 through 2009. Additionally, Bulle Rock offers a range of other facilities, such as walking trails, swimming pools, and tennis courts. Overall, Bulle Rock Golf Course is the epitome of a world-class golfing experience.
Location: 320 Blenheim Ln #2003, Havre De Grace, MD 21078
Columbia Country Club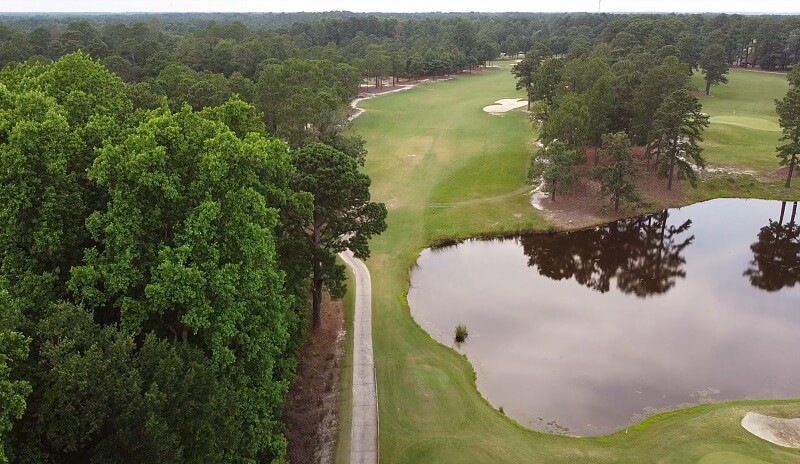 Columbia Country Club is a historical site that has hosted multiple U.S. Open games and US Junior Amateur Championships over the years. Built-in 1916, this course is an excellent example of golden age architecture, as evidenced by its 6800 yards from the Black tees with 70 par. The challenging nature of the course is evident in the 72.9/140 rating and the fact that it lies on hilly terrain.
The front nine holes offer a particularly challenging set of greens, featuring two excellent par fours in the 426-yard 2nd and 357-yard 3rd. These two holes see their fairways cross, making for a particularly fascinating challenge to players. Though short by modern standards, the course makes up for its length with speedy greens and green surrounds, ensuring that this course remains a popular destination for golfers of all skill levels. The knowledgeable staff is always available to provide advice and guidance on any aspect of the game. Whether you're a beginner just starting out or a seasoned veteran looking for tips and tricks, the knowledgeable staff at Bulle Rock Golf Course can help.
Location: 7900 Connecticut Ave, Chevy Chase, MD 20815
Four Streams, Beallsville
Four Streams Golf Club is a private members club located in Beallsville, Maryland. The club's stunning 18-hole, par 71 golf course spans yardages between 6,033 and 7,102. Designed by the professional golfer Nick Price, it ranks among the World's Top 1,000 golf courses, as recognized by Rolex. In "The Best of American Golf 2010," published by Links, Four Streams is also listed as one of the top golf courses in the United States.
In addition to being a phenomenal place to play golf, Four Streams Golf Club is also home to both the Men's and Women's golf teams at Georgetown University. Hosting a number of important events, including the Maryland State Open and U.S. Open local qualifying, the club features magnificent topography that makes for a thrilling golfing experience. Whether you're looking to play a leisurely round of golf or participate in competitive events, Four Streams is the perfect destination for golf enthusiasts looking for a premium club experience.
Location: 19501 Darnestown Rd, Beallsville, MD 20839
Links at Perry Cabin
Links at Perry Cabin is a world-renowned 18-hole championship course located within a stunning resort. The course boasts a par 72, covering an impressive 7032 yards in length, with a rating of 74.9 and a slope of 148. Designed by legendary architect Pete Dye, its unique features include a liberal use of railroad ties, majestic trees, and distinctive water features.
In addition to the challenging greens, players can enjoy an unforgettable finishing stretch in view of the glorious Chesapeake Bay. The signature hole, No.7, is a sight to behold, but it's not the only one. Links at Perry Cabin feature numerous bunkers, including a large bunker on the right side, guaranteeing challenging play for golfers of all skill levels. If you're seeking an exceptional golfing experience with beautiful surroundings, Links at Perry Cabin is the ideal destination for you.
Location: 9789 Martingham Cir, St Michaels, MD 21663
The Links At Lighthouse Sound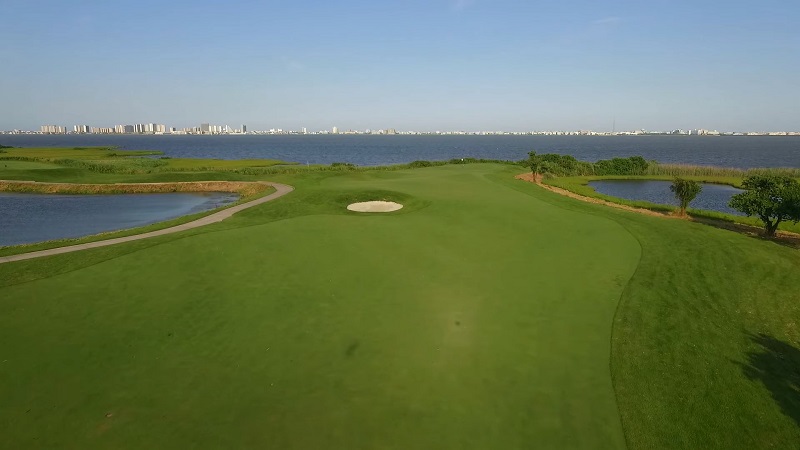 The Links At Lighthouse Sound is a golf course that capitalizes on the natural diversity found within the 1,000-acre site. The pristine marshlands and mature hardwoods are a breathtaking visual spectacle that can be seen from various holes on the 18-hole course. With 72 pars, 7031 yards, 138 slopes, and a rating of 74.6, the golf course provides an exciting challenge for all-level players.
The course also features a view of the bay and Ocean City skyline. The front nine holes run parallel to the beautiful bay, while the back nine follows the S.T. Martin's River, making this course a unique golfing destination. Notably, The Links At Lighthouse Sound is the only course in the U.S. with five consecutive holes playing to the same double green. Additionally, the par-3 fifth hole has been identified as the courses' signature watering hole, offering golfers a challenging and memorable experience. Overall, The Link at Lighthouse Sound is a must-visit destination that showcases the beauty of nature within its 18 holes.
Location: 12723 St Martins Neck Rd #1, Bishopville, MD 21813
The University of Maryland GC College Park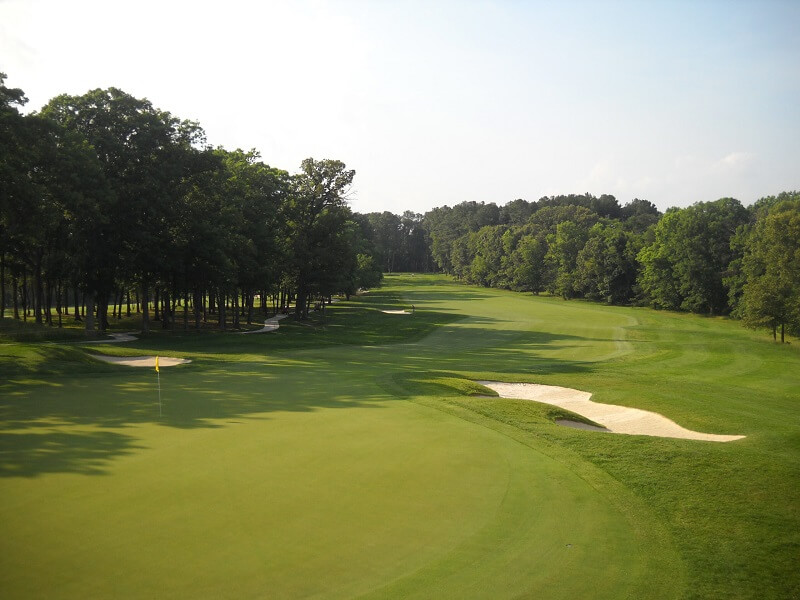 The University of Maryland Golf Course is more than just a golf course. It's a hub of the State's higher education system and home to the Maryland Terrapins men's and women's golf teams. The semi-private championship course features a classic, tree-lined layout that offers a perfect balance between challenge and playability. Designed to cater to golfers of all skill levels, the course spans 7015 yards with 18 holes and a par of 71.
The course hosts over 50,000 rounds of golf every year and is known for its great flora and fauna. After a round, players can unwind in the plantation-style clubhouse named Mulligan's Grill and Pub. The spacious and stylish venue houses a full-service bar, a banquet facility, and a pro shop. The course rating of 73.7/137 is an attestation to the exceptional quality of the fairways and greens, which golfers will appreciate.
Location: 3800 Golf Course Road, College Park, MD 20742
Maryland National Golf Club
Maryland National Golf Club boasts breathtaking views of the Catoctin Mountains and offers an 18-hole, par 71 playing experience with a 139 slope and 73.6 ratings. The course features bent grass and is beautifully laid out, utilizing the rolling hills of central Maryland. Playing at Maryland National is a true test of skill with dramatic terrain changes, wetlands, wooded lowlands, and various water hazards across the 6811-yard layout.
In addition to the golf experience, Maryland National boasts an elegant clubhouse, complete with a full-service golf shop, tavern, and meeting spaces. After a challenging day on the course, golfers can relax in the locker room while sharing stories of their victories and near misses. Maryland National truly offers everything a golfer could ask for, creating an unforgettable experience for everyone who plays the course.
Location: 8836 Hollow Rd, Middletown, MD 21769
Conclusion
The latest 2023 top list of the best golf courses in Maryland is sure to provide an unforgettable experience for all levels of players. Whether you're looking for a challenging course with breathtaking views or a more relaxed atmosphere, there are plenty of options available.
From championship-level tracks at The Links At Lighthouse Sound and the University Of Maryland GC College Park (c) to family-friendly courses like Links at Perry Cabin and Maryland National Golf Club, these 15 amazing golf courses have something special in store for everyone who visits them. So get ready to hit the links this spring season and explore some of the best golfing experiences that Maryland has to offer!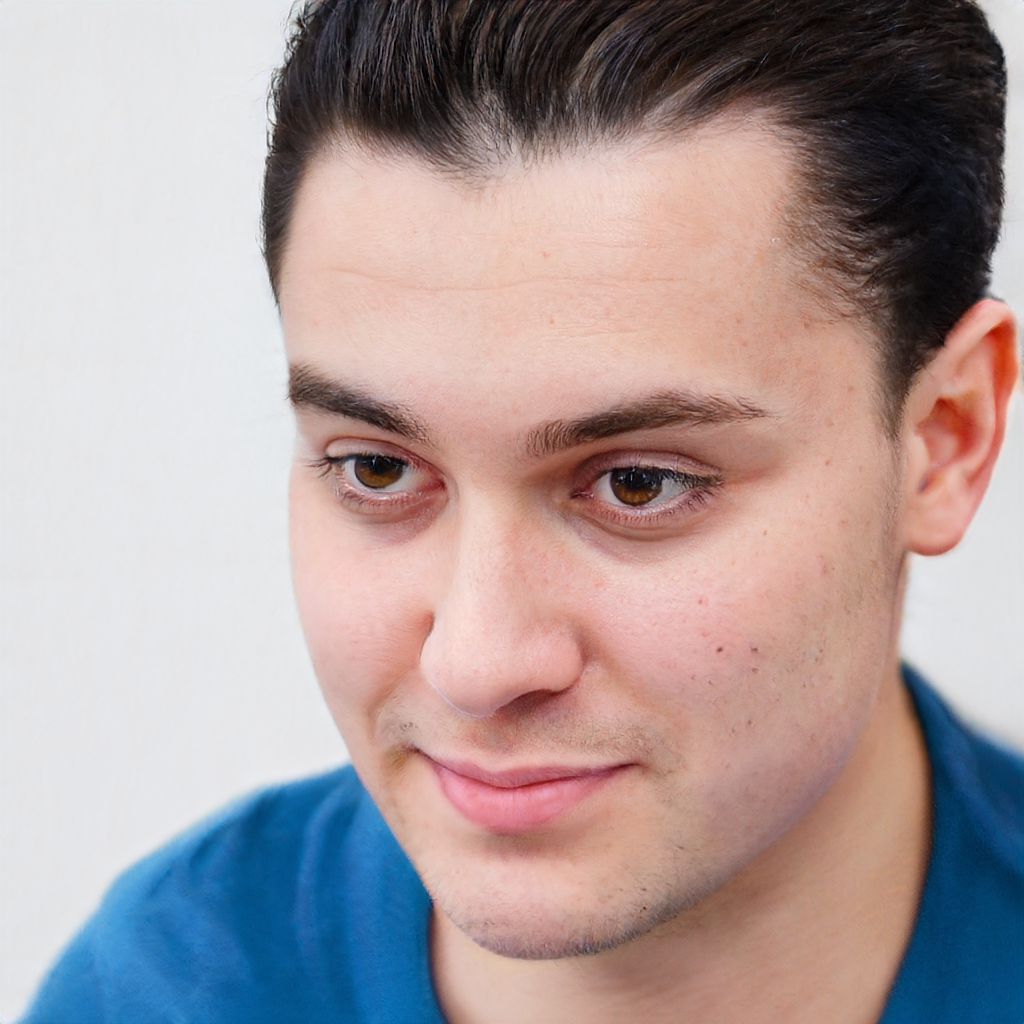 Hello everyone, I'm Alvin Daniel. I was born in the Philippines and came to the United States when I was 16 years old. I started playing golf at that age and have loved it ever since. I turned professional when I was 21 and have been working as a golf instructor and guide ever since.
My goal is to help everyone know more about this great game of golf. And, hopefully, through my instruction, they can improve their skills and enjoy the game even more.